Articles in press
Articles in press are accepted, peer reviewed articles that are not yet assigned to volumes/issues, but are citable using DOI. More info
Power lines and birds: An overlooked threat in South America
Natalia Rebolo-Ifrán, Pablo Plaza, Juan Manuel Pérez-García, Víctor Gamarra-Toledo, Francisco Santander, Sergio A. Lambertucci

10.1016/j.pecon.2022.10.005
Highlights
•

Power lines are a major cause of bird mortality due to electrocutions and collisions.

•

This threat has been poorly studied in South America.

•

Scientific and grey literature suggest this threat is present in this subcontinent.

•

A total of 85 bird species from 34 families affected by power lines were identified.

•

More studies assessing bird mortality due to this threat in South America are needed.
Open access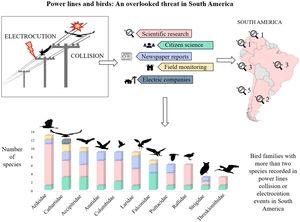 Available
online 9 December 2022
Governance lessons from the Atlantic Forest to the conservation of the Amazon
Luís Fernando Guedes Pinto, Joice Ferreira, Erika Berenguer, Marcos Rosa

10.1016/j.pecon.2022.10.004
Highlights
•

More than 12% of the watersheds of the Brazilian Amazon already have or are approaching natural forest cover below 30% and more than a third have below 80%.

•

Regions of the Amazon already forest cover below the average of the Atlantic Forest.

•

We propose learning policy lessons from the Atlantic Forest to avoid the same trajectory as the Amazon.

•

They need to be implemented urgently to stop the route towards its tipping point, address the climate emergency and assure the provision of ecosystem services.
Open access
Available
online 1 December 2022
A participatory approach to map strategic areas for conservation and restoration at a regional scale
Luara Tourinho, Sara Maria de Brito Alves, Felipe Bastos Lobo da Silva, Marcio Verdi, Nádia Roque, Abel Augusto Conceição, Lidyanne Y.S. Aona, Guilherme de Oliveira, Alessandra Nasser Caiafa, Dary M.G. Rigueira, Tiago Jordão Porto, Ricardo Dobrovolski, Bruno Vilela

10.1016/j.pecon.2022.11.001
Highlights
•

Identifying and mapping strategic areas is a starting point for conservation and restoration actions.

•

Different participator perspectives allow changes in the methodology originally adopted.

•

The participatory approach provides highly effective and assessable mapping prioritization.
Open access
Available
online 30 November 2022